OWA Pickleball Complex Timeline
2013
Lobbying of outdoor Pickleball courts within Vernon begins. At the time was considered a fad and placed on a long term plan to be considered in 2019
2015
Vernon Pickleball Association (VPA) continues advocating for courts to be built sooner due to the significant growth of the sport of Pickleball.
2017
Proposal made from VPA to RDNO that the VPA would pay for half of the cost to build the 12 dedicated outdoor courts if the RDNO would pay half and lease us the land.
RDNO granted VPA $300,000 to build the courts at Marshall Field
June 2017, a lease agreement was signed between RDNO and City of Vernon and the VPA. VPA to manage the construction and operations of the courts with the City of Vernon leasing the land to the VPA. First round of dedicated court fundraising began.
2018
Spring 2018, VPA embarks on a significant fundraising initiative to pay for the dedicated courts and over $111,000 was raised by members. Also received were in-kind donations of services and materials, as well as on-going sponsorship by two local business.
July 2018, A Special General Meeting held by VPA to vote on borrowing the additional funds ($145,000) required to complete the courts in the summer of 2018. The vote passed unanimously.
August 25th 2018, the Grand Opening of the Okanagan Wealth Advisors Pickleball Complex at Marshall Fields at a cost of $750,000.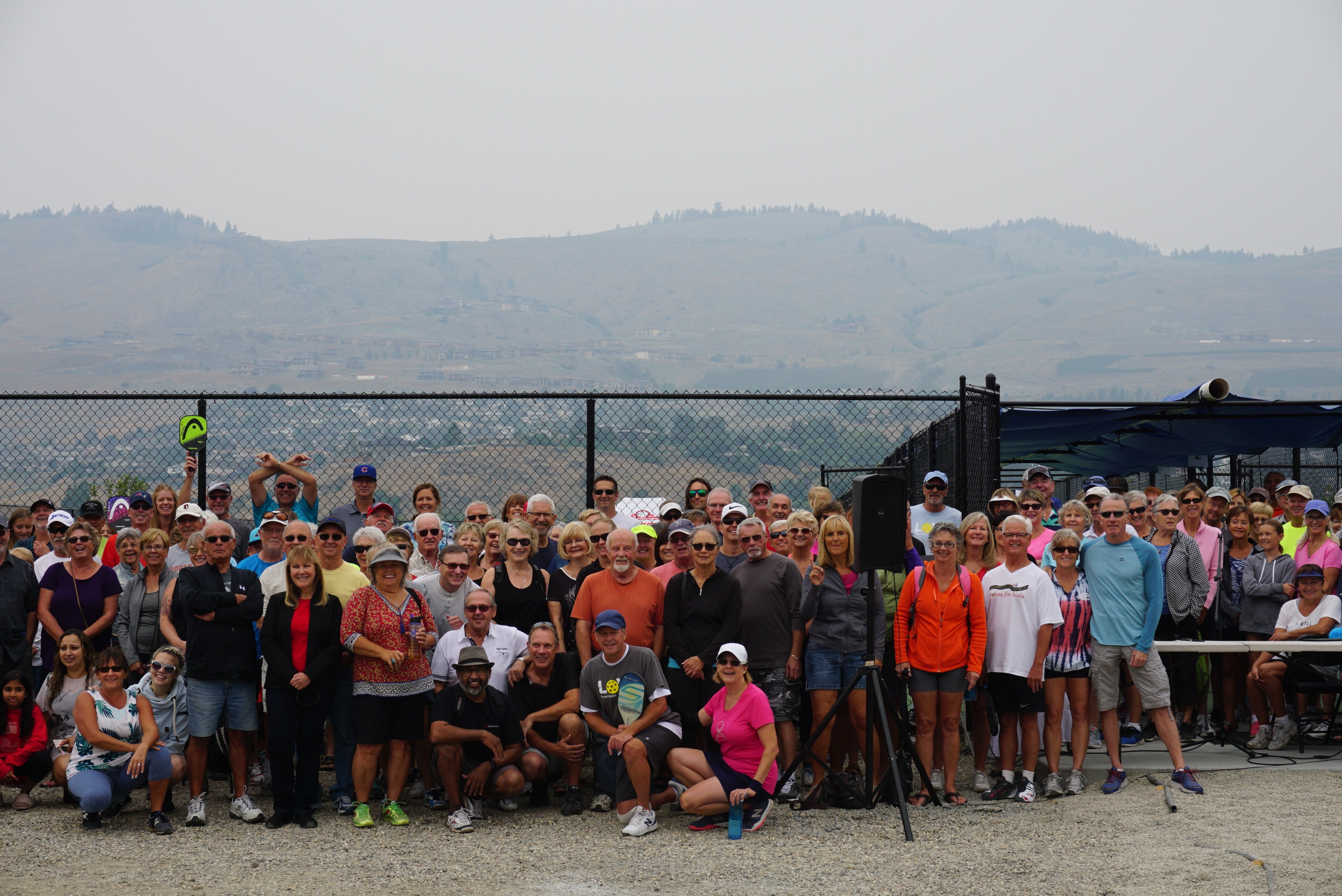 Interesting court construction facts
The Blue Prints contained more than 50 pages
15,000 feet of wire had to be replaced for the irrigation move
120 holes were drill into the pavement with over a bag of cement in each hole to support the exterior fencing
24 holes excavated and each one filled with a cubic meter of concrete for net posts
750,000 lb of concrete blocks were used for the foundation
See our Image Gallery for photos